Nothing compares to a 'lightweight traveling camera stabilizer' like a portable Monopod. Whether it be for Photography or for Video, a Monopod can truly add stabilization on the fly. I wanted to travel light over to NAB, but still have some type of stabilization if needed. I ordered this Velbon Ultra Stick monopod, probably more out of curiosity about it's 'patented twist & release leg locking system'. After my first tests, I'm pretty surprised about how well it works, how sturdy it feels under the camera, and more impressed about how small this thing collapses.
If you caught me over at NAB2011, this was what I used under my 5D Mark II + 24-70mm F/2.8L + Rode VideoMic Pro. Often used just as a solid handle under the camera body, but for longer takes, I was able to extend it to carry all the camera weight. Collapsed, this thing is very very very small. Sets up super fast, breaks down even faster. The small size not only fits in my backpack, but it fits in the smallest outer pocket of my backpack. Collapses down to about 12.5" inches and weighs next to nothing.
Also Available at B&H

for Velbon Ultra Stick at BHPhotoVideo.com
Or Adorama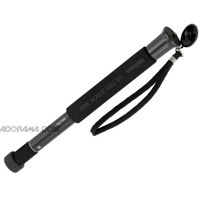 Velbon Ultra Stick Monopod via Adorama
This thing lives in my bag now, and it will be the first thing I grab for quick stabilization or when I want to travel extra light. I think i'll grab one of those Monopod belt pouches which should add more functionality..